Worn Out at Wilber's by Captain
As the BBQ Boys pulled into Wilber's, we were road weary. Babe had traveled more than 1400 miles, it was our 12th BBQ meal, and half of the BBQ quartet was sick (Will's sore throat and Matt's stomach battle with bad ribs). Our scenery was staying the same: lonely farms, cookie cutter shopping centers, and endless streams of road signs. We debated the option of skipping Wilber's but if we wanted to stay strong and honestly sample NC's best 'cue, we needed to make a stop. We hopped out of Babe, made sure Matt had his Pepto, and walked through the doors. We were confused at first. A buffet line was at our left, a register in front of us, and a Waffle-House type counter to our right. Based on the emotionless stare of the waitress, we got the drift and took a seat. It was a quiet place with simple wooden walls and red-checkered tablecloths.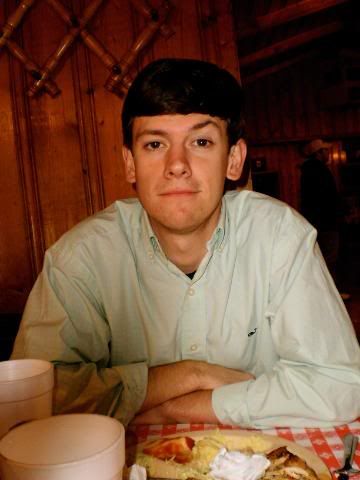 "Yall gonna have tea?" was the first words of our waitress. We declined, preferring water on behalf of our health. We were about sick of pulled pork so we all ordered a half barbecued chicken with slaw, potato salad, and hushpuppies. As she took our menus, the waitress accidently spilled Blinky's water. The mess was quickly mopped up and one of those yellow "wet floor" signs was placed by our table. Based on our current state, it should have read "worn out BBQ Boys" The dinner conversation consisted of mostly silence with various comments on future destinations and inquires about our friends' overseas travels.
Our food arrived and we struggled to pick up the forks. The chicken was covered in a thick, Kraft Mac & Cheese colored liquid that we concluded was barbecue gravy. The chicken was tender and slightly smokey but nothing special. The hushpuppies were as sweet as funnel cake and continued to be a BBQ Boys favorite in the Tarheel State. The slaw was sweet and mayonnaise-based but again, nothing special. Maybe our palates had been exposed to so much great 'cue that we could not taste the greatness. I sure felt worn out. The energy in the restaurant continued to be lackluster as more folks walked in. Maybe the people of Goldsboro were tired. Maybe the BBQ boys were too worn out to give this BBQ establishment 100%. I think it was a little bit of both.
We picked off the last strands of chicken, grabbed our tickets, and paid. Even the cashier lacked enthusiasm. Man, what it is with this place. We took a couple of pictures and jumped in Babe. We hit the road for Florence, SC for a couple of days with Livin' Larry. To be fair to the Wilber's faithful, it deserves a return trip from the BBQ Boys. For us, barbecue is a lifetime devotion so Im sure we will be back.