North Carolina had delivered highs and lows..literally. Great ''Cue in Lexington and Greenville. Lackluster pork in Greensboro and Goldsboro. Misty mountains of Cashiers and flat, coast-like land of eastern NC. Social angels in Lexington and grumpy gofers in Goldsboro. We were sad to leave the state but we knew more 'cue needed to be tested and consumed.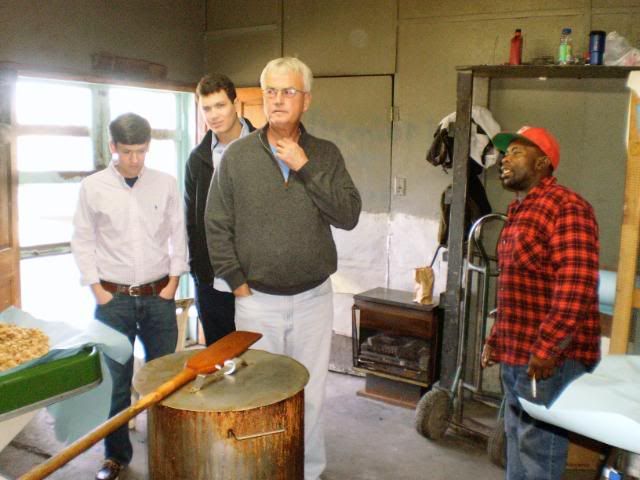 Our time in South Carolina would be spent in the presence of "Livin" Larry, Will's uncle. He had a house in Florence, a condo in Myrtle Beach, and a life full of energy and entertainment. Larry is the kind of man who you trust and follow when he makes a recommendation. He had one recommendation: Scott's in Hemingway, SC. He did not give us much description about the restaurant except for one thing, "it's rural." I did not think anything of it. I mean, I'm from Russellville which is fairly rural in my book. I knew our drive would be highlighted by wide open fields, endless trees, and random roadkill. We pulled out of Larry's Florence home and hit the road. Sure enough, we encountered fields, millions of pine trees, and an occasional, deceased raccoon. But this rural road was different from any I had ever encountered. I felt like I was traveling back in time. No corporate gas stations, speed limit signs, or any other vehicles for that matter.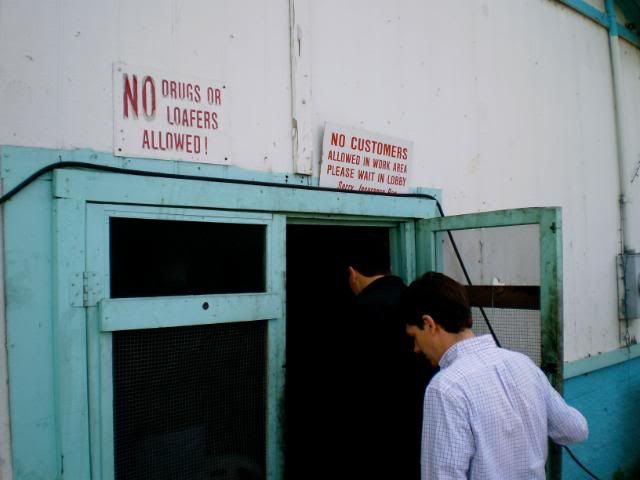 As we pulled into Scott's, I had to pinch myself. The sign was missing letters, the cars in the parking lot were older than my little brother (he is 15), and the vending machine had an option for
Tab
. We walked in and didn't know what to do. There was no menu, no tables, one refrigerator, and a shelf with sliced bread. A sign on the wall listed different options: whole hog $400, half hog $200, etc. We weren't hungry enough to eat an entire pig but Livin' Larry took care of us. He instructed us to come with him towards the pit. We walked in and there was a bed of pig skins on my right, a bubbling pot of oil on my left, and a dirt floor. In the words of Livin Larry, "This was as country as country can be. This is it."
We continued into the back and examined four pits of smoking pork, whole hog style. We thought had seen everything in the BBQ world until our next step. Corey, a worker at Scott's, was sitting over a small grill. I did not recognize the item so I asked, "What is that?" "A hog head" "what?" "a hog head. Someone ordered it so we started cooking this morning" The pig head was split in two and you could see the teeth. I did not care to consume this SC delicacy but someone in Hemingway would have that opportunity in the near future.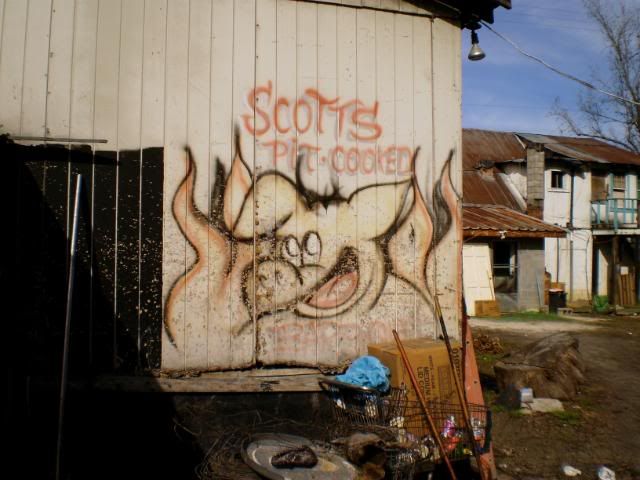 We thanked Corey for the tour and headed back inside. We grabbed our pint of pulled pork, a cup of sauce, and opened up a loaf of Sunbeam bread. It was simple but wonderful. For me, it was the best barbecue sandwich ever. It was a beautiful sight. We were standing up, eating a sliced bread, pulled pork sandwich, and gulping a Red Rock Strawberry soda. We were literally living high on the hog.
Many of the BBQ restaurants we have stopped at claim to be authentic and original. They have no idea what they are talking about. Scott's is cash only, no advertisements, no sides, no menu, and no tables. But the 'Cue speaks for itself. The sauce was a perfect vinegar sauce with a creeping force of heat. You could taste the heat and flavor for at least 5 minutes after i finished my sandwich. Delicious. I guarantee you that this place has not changed in the last 30 years and I loved it for that. The South is changing into a world of suburbs, and industry based on the power of our brain, not our muscles. But Scott's is one of the few places where you can still experience and taste the real South, the South that writers romanticize about and cooks try to imitate. It will be hard to not compare my future 'Cue to this genuine establishment. If you want to truly experience Southern BBQ, you must, must come to Scott's barbecue. You will have to call Larry Foster for directions but it is worth every mile and minute.