Love in Lexington By Captain
We left Billy's mountain house rested and assured of our future pork progress. It was nice to take a quick break from 'cue before we took on our longest drive yet. We knew we were heading to Lexington, which is dubbed as a Carolina BBQ destination, but we had no clue which restaurant would we chose. As we drove through the mountains, our plans began to evolve. Via Blackberry, David "True Cue" Bailey insisted that we visit Lexington BBQ No. 1. It sounded fine by us so we typed it into the TomTom and set sail. However, the TomTom had not received her morning cup of joe. We had to turn around three times and make two phone calls, but we made it. It was about 1:15 on a Monday and the parking lot was packed. This is a good sign for good 'cue.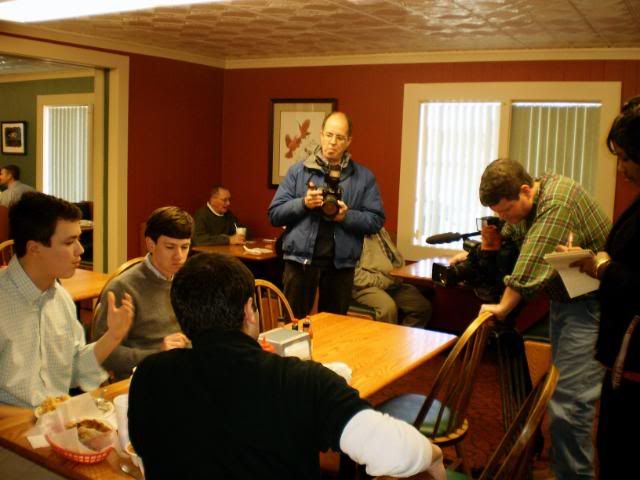 We walked in and immediately sensed the community feel. Lawyers, farmers, teenagers, and children occupied the booths. Our waitress greeted us with a warm smile. Even before my first bite, I liked this place. We took our seats and the local Lexington reporter told me that President Bill Clinton sat in my exact seat when he came through with Hillary's campaign. All of the BBQ Boys turned their heads towards me and smiled. This feeling of humility came over me. For the first time on our trip, I realized how fortunate and lucky we were. We get to study BBQ, create laughs and memories with our best friends, and get a chance to share our passion for barbecue with random strangers. On top of that, I had randomly picked President Clinton's seat of preference. What a country.
Our waitress took our orders and explained the menu. This was our first establishment of Western NC barbecue. A sweet sauce with a ketchup/tomato base, pork from the shoulder only, and signature hushpuppies characterizes Western BBQ. I was in the mood for pork so I ordered chopped pork, "brown", with slaw. "Brown" is a term that refers to a cut of meat that is a little tougher than your normal chopped pork but has a stronger flavor. As we waited for our food to arrive, we chatted with the locals. From day one, people were friendly everywhere but this crowd was like our fan club: they kept asking questions, wanted more information, and wished us well on our journey.
As we finished our conversations, our rations arrived. My chopped pork and slaw arrived in a loveboat, no pun intended. Slaw on the left and juicy, mouthwatering, hickory-flavored, sauce covered, brown'd chopped pork on the right. It was a vinegar-based slaw that included ketchup and pepper for the perfect combination of sweet and spicy. The pork was a ying-yang of perfection: tender, white meat with the tough (like beef jerky) but manageable "brown". When I dream about BBQ (which I am not sure if I ever will after this trip), this is what I think about. Now the pork was not everything. The hushpuppies were not round but French fry shaped. The sweet tea was just like your grandmother's: not too syrupy but enough sweet to make anyone smile. Also, Lexington barbecue offers pork skins, where they take the actual skin of the hog and deep fry each inch till they reach the ultimate level of crunch and flavor.
After our meal, we were given a tour of the pit and kitchen by Nathan Monk, grandson of the founder and owner Honey Monk.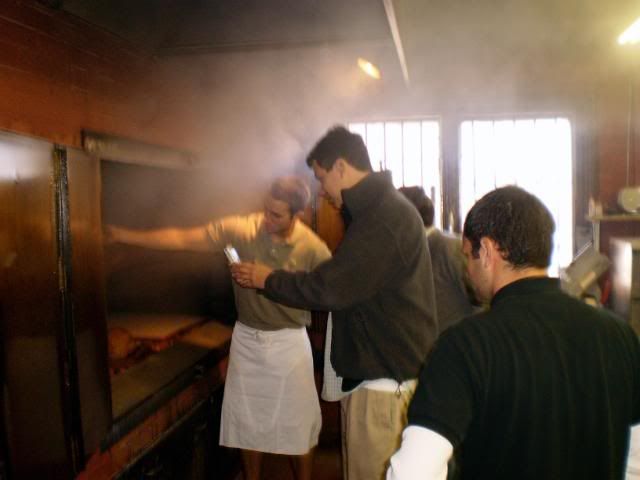 And the people of this place. One person offered his sister's phone number (thanks Todd), one person was a food magazine editor who was aware of Cullman, AL, and a a group of sweet women offered a place to stay in Myrtle Beach. And not only did Nathan give us a tour, he picked up our tab. We could not have asked for a better experience. Babe pulled out of the parking lot with a car full of content boys who were rejuvenated for their journey of barbecue. To Lexington Barbecue and everyone in Lexington, thank you!