Chowin in Chattanooga by Captain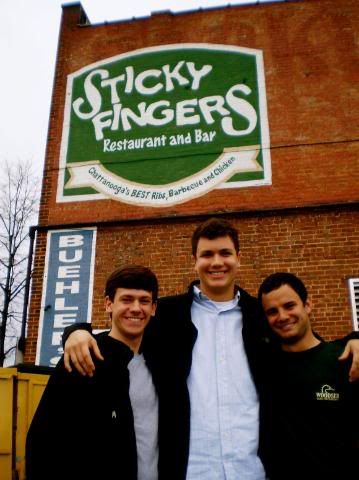 We arrived in Chattanooga after a long, rainy drive from Nashville. The ride was characterized by insults, inside jokes, boring farmland, intense rain, and attempts at attention towards passing coeds. We were on our journey. We had no idea how to get to Sticky Fingers, but we trusted the wisdom of TomTom, Babe's navigational brain. As the mile markers waved by and bodily odors floated out of the window, we pulled around Lookout Mountain and drove into downtown Chattanooga. We walked into Sticky Fingers and instantly observed the display of Sticky Fingers take-home trinkets. Shirts, stickers, aprons, sauce packs. They seemed to have everything. We were ushered to our seats and took a look over the menu. We still were full from our morning breakfast so I decided to order my favorites to share: ribs and chicken wings. As Captain, I knew that this would be the best strategy for our patience, our palates, and our stomachs. Our feast arrived and we rolled up our sleeves.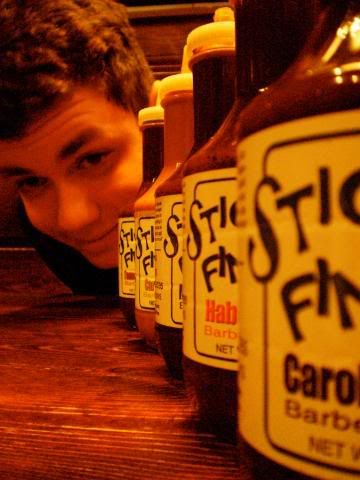 Since we ordered the sampler platter, we tried every type of sauce. At Sticky Fingers, five sauces are available for your consumption. Carolina Sweet is a tomato-based sauce that is almost jolly rancher sweet. Tennessee Whiskey begins with a subtle brown sugar-like sweetness then a whiskey flavor sneaks in. Memphis Original is a smoky, heavy sauce that is equal parts hickory and molasses. Carolina Classic reflects the taste of South Carolina: mustard laced with honey. Haberno Hot presented a basic barbecue flavor followed by a wave of heat on the back of your throat. I recommend every sauce for any type of meat and any occasion.
Getting back to the meat, the dry ribs were tender with a middle amount of thumb grease (amount of grease left after one takes a bite and puts down the rib). This was our seventh meal and while the ribs did not blow me away, the tenderness and diversity of sauces placed them in a top tier. But compared to the chicken wings, it was like eating a McDonald's McRib.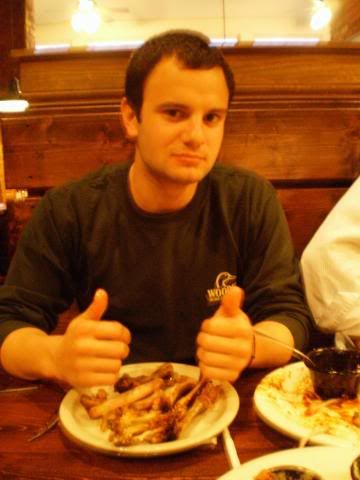 These were juiciest, tastiest chicken wings I have ever, ever put in my mouth. BBQ Nation, you may not think of chicken wings as barbecue, but these are an exception. The waiter told us that the wings are fresh, hickory smoked for 4 hours, and lightly covered in a dry rub. But these chicken wings are as big as a baby rattler. One bite and you are taken on a roller coaster of natural juice and tender meat. We ordered twelve and the plate was spotless in two minutes flat. To complement the wings, a barbecue ranch was used as the icing on the cake. Outstanding. BBQ Nation, if anyone is a fan of chicken wings, you have to take a trip to your local Sticky Fingers. We finished our feast, wiped our hands on their dishtowel-like napkins, and headed back to Babe. We gave Chattanooga a quick visit and she gave us a barbecue spot with charming sauces and heavenly chicken wings. The BBQ Boys will be back.