Stamey's Barbecue -- by Bus Driver
First I would like to apologize to Barbecue nation for my length on responding to our meal Monday night at Stamey's BBQ. I ended up getting food poisoning the next day in Raleigh and after that the Bus Driver was out of commission for a couple of days. I feel almost back to one hundred percent now.
Stamey's BBQ is located in Greensboro, NC. When you first walk in this locally appreciated establishment, you are greeted by pictures of George W. Bush from when he visited the restaurant in August of 2006. We also had the pleasure of meeting with Barbecue phenom David Bailey. He works with the publishers of Delta Sky magazine and last judged the Jack Daniel's Barbecue Championship in Lynchburg, TN. Mr. Bailey brought along with him his wife and a well-known editorial writer from Greensboro who decided not to cover the story. It really helps to have a person as obsessed with barbecue as Mr. Bailey there to help explain North Carolina barbecue to the naïve BBQ Boys. We were not terribly impressed with the food, which I think attests to how good the meal at Lexington BBQ was just a few hours earlier. The boys had a mix between chopped pork and the barbecue sandwiches. This restaurant chain definitely has nothing on the family owned and run business just down the road.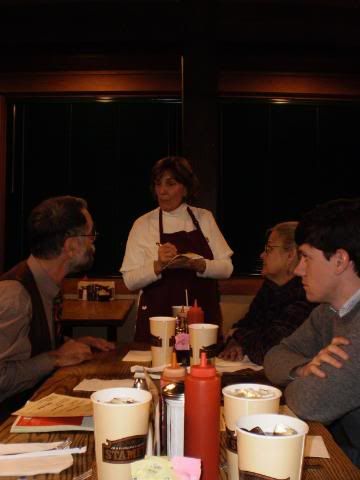 I have to give a quick thanks to my fellow BBQ Boys for taking such good care of me when I was sick. They always made sure that I was as comfortable as possible when I was sick. There is nothing worse than being dog sick and being on the road.